Air Conditioning Repair, Servicing and Maintenance
Service and Maintenance
It is proven that not having regular servicing of your air conditioning units is a false economy.
Regular servicing of your equipment will make sure that it remains running efficiently and effectively and will reduce your energy bill and reduce the likelihood of a breakdown.
EDS can offer a five year warranty on parts and labour costs if equipment is serviced annually.
How often and why do you need servicing ?
Every system needs to be serviced once every year with the first service due 1 year from purchase date & then annually there after.
Below show how important these services are:
Validate any manufacturers & Suppliers warranty
Enhance equipment life
Maximise performance and energy efficiency
Keep the air quality to a high standard
Comply with current regulation
The 6 Year Warranty from EDS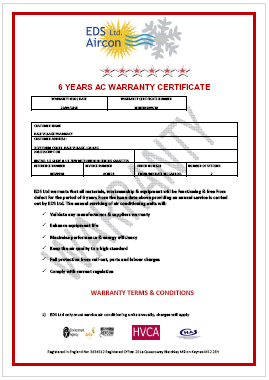 This 6 year service warranty is exclusive to EDS as manufactures warranties are generally only 3 years, but with our expertise and by using only the best equipment EDS can offer a 6 yearwarranty. (Terms and Conditions Apply)
EDS is a REFCOM registered company
As of July 2009 it has become a legal requirement that all companies who's business it is to install, maintain and service any type of air conditioning and refrigeration equipment which contains or is designed to contain F gas refrigerants need to obtain an F gas company certificate.
Any company who works within the industry must have a current F gas company certificate to comply with current laws.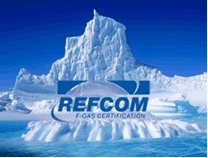 All servicing is performed by highly trained engineers with up to date certification on all aspects of installation and servicing of Air Conditioning units.
EDS Ltd is a REFCOM registered company and is licensed to handle and safely dispose of refrigerants and our engineers are qualified with F Gas certification.
E.D.S. will call you to remind you when the service is due.
R-22 Refrigerant Ban in Air Conditioning
If your air conditioning system is over six years old now is the time to check out this legislation
From 1 Jan 2010 it will be illegal to use virgin hydro chlorofluorocarbons (HCFCs) such as R-22 (which has been the most commonly used refrigerant) when servicing and maintaining air conditioning equipment. Until the 31 December 2014, temporary use of recycled/recovered R-22 is possible but availability could be limited and costs high. From 1 January 2015, sales or use of recycled/recovered R-22 will be prohibited.
What is the F gas regulation and Who does it affect?
The main driver behind the F gas regulation is the ever topical, "Climate Change". EC regulation is to prevent any unnecessary emissions which has been caused by the ozone depleting nature of refrigerant gases.
All fixed and stationary air conditioning and refrigerant equipment has a number of obligations to prevent the leakage of F gas refrigerants, with the most emphasis on those system which contain more that 3 kg of refrigerant. There has also been an introduction of a ban on the industries most popular refrigerant R22, it states " No virgin refrigerant can be used in any systems and as of 2015 R22 with be obsolete as all recycled will be destroyed.
How is your business affected?
The new F gas regulation applies to all business which have any "fixed air conditioning or refrigeration equipment" on site. All businesses have a legal obligation to ensure their air conditioning equipment is maintained and the correct refrigerant leak test have been done to comply with the current legislation.
Always make sure the contractor is registered with Refcom and has the correct F gas certificates and all of its engineers are suitably qualified. The upside is that your air conditioning equipment will be properly maintained and you will save in running costs and the longevity aspects too.
How much does servicing cost ?
The first year all units come with a full parts & labour warranty free of charge.
Once you have accepted the service agreement at the end of the first year EDS will contact you to book in your first service. After we have completed our work you would then be asked to pay the first monies.
The cost of a full service (any unit) including extended warranty parts, labour & call out is £165.00 for the first unit & £65.00 each unit there after.